Wavepurity Mini
The inexpensive mini-version parameters are sufficient for users who want to focus on the two essential steps of audio restoration, or who just want to do audio-only editing and long audio recordings without digital post-processing, including use as an audio jukebox.
Upgrade! You can always switch to the standard or professional with price advantage!
You can order your software for download or on an installation CD (supplement).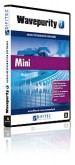 Art-Nr: 10100798
19,90 EUR incl. VAT

Art-Nr: 10110798
22,40 EUR incl. VAT plus Shipping