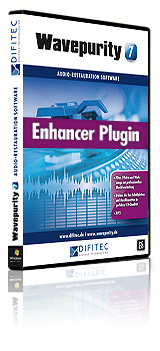 Plugins
Enhancer Plugin Kit:
includes two additional filters for revising older and dull footage.
RIAA-Plugin:
Allows a vinylplate cutting line equalization by software RIAA. Thus, a direct connection of the turntable to the sound card without intermediate phono PreAmp is possible.
You can order your plugin for download or on an installation CD (supplement).
For CD-ROM version plus shipping costs.
Art-Nr: 13100792
19,90 EUR incl. VAT
Art-Nr: 14100792
14,90 EUR incl. VAT
Art-Nr: 17100792
19,90 EUR incl. VAT